VOLLEYBALL FACTORY NEWS
---
Volleyball Factory Welcomes
NICOLE FAWCETT
As Special Advisor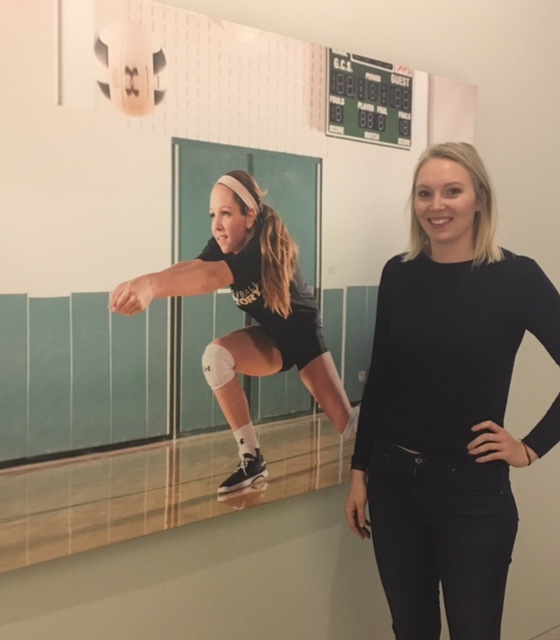 Nicole Fawcett
, who grew up in Zanesfield, Ohio, a small town with a population of just 196 residents, went onto become one of the greatest Women's Volleyball players in Penn State history, winning two NCAA National Championships and holding the distinction of being named a four-time AVCA Collegiate All-American.
In 2005, Fawcett was the National Freshman of the Year and in 2008, was named the AVCA Division I National Player of the Year, helping to lead Penn State to an undefeated season (38-0), en route to its second straight NCAA Title. After college, Nicole has gone onto have a great career professionally, helping the United States win its first-ever FIVB World Championship in 2014.
Volleyball Factory is excited to announce Nicole to the Volleyball Factory team in her role as special advisor. We recently caught up with Nicole to discuss her vision for helping Volleyball Factory players in the future.
Volleyball Factory:
Growing up in such a small town in Ohio, how were you able to be noticed by collegiate coaches?
Nicole Fawcett:
I was lucky in the sense of both of my parents having a Volleyball background, I kind of grew up around it. My mom and Dad also had friends in the collegiate coaching realm, but I just happened to play in a tournament, and Penn State's assistant was walking by the court to go to another court to watch someone and they happened to see me… so it was kind of a stop by chance.
Volleyball Factory:
How do you think having a program like Volleyball Factory available at that time would have helped you in your development?
Nicole Fawcett:
I think in general, just getting in touch with people that have been around the college scene and getting an idea of what was to come. I feel going into my university time, I was really unprepared in the sense of what kind of training we were going to be doing, what the expectations were. You can hear things, but I don't think I was fully prepared for the level of play that was expected right away. So I think that would have helped immensely, and I think the resources that Volleyball Factory has, is really good at implementing things that gets players prepared. I think even for teammates that I had on my club, we weren't a super-big club, but I think that a lot of them could have gone a lot further had they had this kind of opportunity and been able to be scouted and seen by other universities.
Volleyball Factory:
How do your values and vision for helping student-athletes mirror what the Volleyball Factory does?
Nicole Fawcett:
For me, personally, in how I try to be a teammate and player, I try to incorporate life in general with it. I think when you are able to use life experiences as well as volleyball experiences in your life, you're able to adapt easier and it's easier to learn. I feel like your tolerance for difficult moments is a lot better because you can tap into those previous experiences. What I really love about Volleyball Factory is that its not just about volleyball, its about the fit for wherever you want to go. Encouraging and helping them to find whatever their end goal is, not just this temporary moment, its what life's going to be.
Volleyball Factory:
In what ways are you looking to help Volleyball Factory players from around the country maximize their full potential at Player Development events?
Nicole Fawcett:
I want to be hands-on, absolutely. I've played under a lot of coaches and played with a lot of different teammates and everyone is coached differently and react differently. I feel like I have a good understanding of how to tap into that knowledge base of how can we get better in these certain situations. I think the most important thing is to be positive with it because it's a mindset really, I think that you're all able to do something with your bodies, but when you have a strong mental game, that separates the good from the best.
Volleyball Factory:
What are some of your favorite moments playing at Penn State?
Nicole Fawcett:
It has to be winning the National Championship my junior year against Stanford, because no one expected us to do it and we went in and had a blast while we were at it.
Volleyball Factory:
Describe the feeling of helping the United States win its first-ever FIVB World Championship in 2014, what was that like?
Nicole Fawcett:
That would be one of my favorite experiences, internationally, because we weren't expected to do as well as we did and just because we had so much fun. It was a three-week tournament, and those tournaments can get tough because you're around each other 24-7. I think what people don't realize about really successful teams is, its not necessarily the amount of stars you have, but the people who are accepting of their roles and everyone on our team fully embraced those roles and appreciated everyone's role on the team. It didn't matter if you started or subbed, you were just as important to that success, than say maybe the next person who was the MVP. There was no difference. That was a cool feeling, it was for the team and fully embraced.
Volleyball Factory:
When all is said and done, how would you like to be remembered for wanting to help girls across the globe who play volleyball get better?
Nicole Fawcett:
How I try to play is be as helpful as I can and be a good teammate. When you're a good teammate, it makes the people around you want to raise their level of play as well. In the end, it ultimately helps you with your level of play. I've always wanted to be the one that is willing to help and ensure that people get better and what I definitely want to bring to the table here at Volleyball Factory. You're going to leave and you're going to be better at something, and it doesn't mean you're the greatest, but you have the knowledge that you can continue to get better. I don't think there's ever been anyone that is completely the best. You ask any of the best athletes out there and they'll tell you there's something they need to get better at. I want to let people know that the key to being successful is having the drive and the fire of wanting to get better always.
Volleyball Factory Parent Testimonial:
KIM BULLARD
(VOLLEYBALL FACTORY LONE STAR SELECT TRAINING)
I thought this was an excellent camp! I will let Kendra send her own comments as well, but she told me she really liked it. The pace of the camp for all four days was great. You seem to really have a good system in place that provides high intensity drills/play, offset by lower intensity activities, breaks, etc. so the kids don't get too physically drained (well, most of the time), but they are definitely working hard.
You and all the coaches were phenomenal in your knowledge of the game and of teaching techniques to improve all aspects of the game. You are all also very personable and down to earth, which I think is a huge plus and great fit for girls this age. Your varied stories about your volleyball lives and how you all got where you are will really open the eyes of some of these girls about how almost anything is possible. I also love that you all not only demonstrated exactly what you expected as you explained things, but you'd jump right in and play and work just as hard as the girls as well.
The recruiting talk was extremely helpful. Your approach of having the girls come up with questions and discussing it in a group format with the parents is very smart. I especially liked that each of you pointed out that academics comes first throughout this whole process. Emphasizing that they need to do the work - not us parents - was a very important point, as was the fact that you and the other coaches all stated that it's never too late to start. It certainly makes sense.
You personally did and said a few things that really impressed me. When the girls weren't talking on the court, you called them on it and made them get loud. If they were slacking on a drill, you saw it, told them you saw it, and made them do it right. When they were separating into little groups instead of sitting all together at meals, you made them sit together. When they weren't stretching correctly, you had Raven show them how, and to her credit, when she saw them not doing the stretches correctly even when she was showing them, she made them do it right. I've watched a lot of volleyball over the years and it is extremely frustrating to see those things happening and not have a coach address it. And of course you also told them when they did things well, which is equally important for them to hear.
Thank you again for all your hard work in putting together an awesome program. Definitely worth every penny in my opinion
! I hope Kendra will stay in contact with both you and her player development coordinator and can be successful in finding a great school where she can continue her education and get to play volleyball as well. You certainly have given her all the tools she needs to get that process rolling.
Happy Travels To You!
Kim
Volleyball Factory Q & A:
EMMA HABISCH
, Setter/Outside Hitter (University of Wisconsin-Parkside Commit)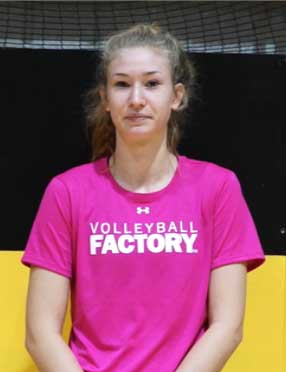 Volleyball Factory:
How excited are you to get the opportunity to attend Wisconsin-Parkside and play for the Rangers in the Great Lakes Valley Conference?
Emma Habisch:
I am very grateful for this opportunity to play at the next level under an amazing coach and also in a pretty competitive league. I am very much looking forward to being a Ranger!
VF:
What area of your game do you feel will help contribute most to Wisconsin-Parkside's success?
EH:
One of the things that I think I can contribute is my positive demeanor; while out on the court, I am always encouraging my team and always trying to keep them positive as well. With being a setter, I feel that it is very important that the team can look to me as the driving force of our attitude out on the court.
VF
: What areas of your game are you working on to get ready for the next level?
EH:
One of the main areas has been on my defensive skills so I can become a more consistent all-around player. I am also working on the speed of my sets since college play runs a bit faster than high school or even club ball.
VF
: What was your favorite Factory event and why?
EH:
By far, it would be having the opportunity to train at Lake Placid. The coaching at camp was amazing and I enjoyed getting to meet girls from around the country. To be able to work with a coaching staff and athletes at that level was very beneficial to me in improving my setting skills.
VF
: How has the Volleyball Factory and our Player Development event you attended helped you and how can it benefit others who attend future events?
EH:
I appreciate the feedback from the tryout event and the Lake Placid event that I received. It was very helpful to have an unbiased evaluation of not only my setting skills but of my blocking, passing and serving skills as well. It gave me a good resource to use for stepping up my volleyball IQ and abilities.
I feel the main benefit to the Volleyball Factory events is the wonderful coaching that takes place and the ability to work with other players of similar ability levels to help improve your personal skills.
Volleyball Factory Q & A:
NATALIE WILDES
, Head Coach, Women's & Men's Volleyball - Cardinal Stritch University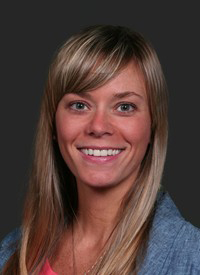 Volleyball Factory:
What are your thoughts on how Volleyball Factory Player Development events stand out compared to other types of camps and activities that players could attend?
Natalie Wildes:
I think the Player Development events mirror more of what the college Pre-Season is about and incorporates with the multiple training sessions in a day, having the opportunity to do team-building and bonding with a variety of people. Getting thrown into a situation where they maybe know one person or no one at all, which will compare with what their team setting will be at the college level. Creating an opportunity for them to stay in a dorm, be away from home, possibly for the first time, preparing them for what they'll experience at the college level. In addition to the training opportunities at Player Development events, versus a camp, the ratios are a lot smaller at PD events than at a large camp that is numbers driven… they'll get more individualized attention and a true evaluation of their skillset, abilities and what they need to work on and what levels they're able to compete at.
VF:
When we get in contact with kids who are already verbally committed, what do you think the process should be for them to continue utilizing our services?
NW:
I think the verbal commitments are just that, a verbal commitment, so that means anything can change at any time. Channeling the ability to utilize the Factory services, potentially in a different light, maybe less for the recruiting offerings and more so for the continuation of the development and skill training for the athlete. Two, to essentially ensure their verbal commitment moves to a signing… and while still keeping the recruiting service in their back pocket in that if something does change along the lines, whether the recruits interest changes or the university's interest changes, they've maintained a healthy relationship with a recruiting service to help them if need be.
VF
: How important it is for players to take control of their recruiting throughout high school?
NW:
Getting young student-athletes to be engaged in the process as early and quickly as possible is a continued challenge for everyone involved. Continuing to communicate to parents that they can be there as a help and guide and to not take control of the recruiting process themselves. That's actually doing their child a disservice. Ultimately, the college decision is the student-athletes, not the parents. Same goes with the college experience. Getting them invested and engaged in the process as soon as possible is really important, from that being communicated from club coaches to recruiters here at Volleyball Factory, extending that to parents. Continuing to hit it home to young athletes that it's really up to them to be involved and engaged in the process. If they are involved and engaged, they'll be more invested in their future and ultimately, being secure in their decision in the next stage of their lives.
VF
: For our evaluation process, can you compare that to the other recruiting services you've used while being a collegiate coach?
NW:
I think the biggest differentiator would be that the evaluations are taken place live and by actual Volleyball people. Whether that is a coach, a former player or college player, they have a volleyball background and they're evaluating them in a live setting and not taking footage that family has sent in and evaluating off of that footage. They're being able to work with a student-athlete at a tryout for two-to-three hours, or evaluating a student-athlete at a Player Development event for three or four days. You're getting a truer, more honest, accurate evaluation through
Volleyball Factory
than some of the other recruiting services out there that do provide an evaluation. I as a college coach, put more stock in the evaluation that I would receive on a
Volleyball Factory
evaluation than I do on some of the other recruiting services because my experience with others, the evaluations that I would give versus what they gave can be very far off and drastically different.
Volleyball Factory, a division of Factory Athletics, works with youth and high school players nationwide to provide high level instruction, skill development and guidance through the college recruiting process. Our experienced coaching staff has helped over 100,000 players Build their Way to Greatness.